News
---
Fall 2019
I am preparing for the Holiday Vashon Island Art Studio Tour, which runs the first two weekends of December. I really look forward to chatting with visitors about my work, process, materials. There is something kind of magical about having people come to my studio. It's the place where the "mysterious" process of painting and creating art happens. The experience of doing studio visits is qualitatively different from seeing art in a gallery, even if the artist is present. I find people very intrigued with the how, what and why of art making. It's so great to be able to pull open a drawer and reveal materials such as the stones that I grind for natural pigments, the inks that I use, the paper and panels that I paint on. I hope that you will put the dates on your calendar, sign up for email notices and come see me on Vashon.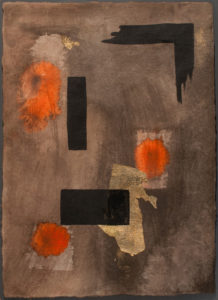 I have been invited to show in the upcoming CoCA (Center on Contemporary Art) show, "NW Mystics 2019:  Women of the Pacific NW", showing December 5-21 at CoCA's gallery in Pioneer Square. Two of my pieces from 2018 will be included, Reverb (shown here) and Pulse.
Description from CoCA:
"This show is inspired in part by the life and work of gallery owner and catalyst for the Northwest School, Zoë Dusanne as she celebrated the ingenuity and unflappable spirit of the Pacific Northwest. "Northwest Mystics 2019: Women of the PNW" is a visual representation of the beautiful struggle of the feminine and, ultimately, communicates an inspired message that will leave viewers uplifted, hopeful, and with a little joy in their heart."
---
August 2016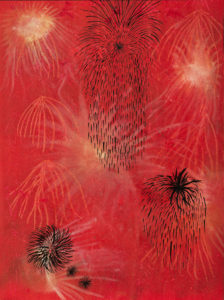 LOTS of great news to report!
Thank you for browsing through my beautiful new website. I am very grateful to Stephanie Krimmel of Krimmelworks for her expertise, wisdom and patience during this process. Please let me know what you think at cathy@cathysarkowskystudio.com.
I had a fantastic studio sale over two weekends in March 2016. Many thanks to all of you who came. I thoroughly enjoyed sharing my home, studio and art with people from all corners of my life. I am happy to have studio visits if you are interested and I love to do commissions.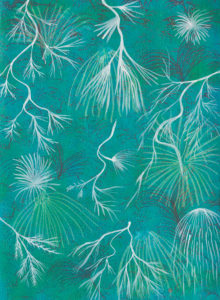 I have new work on paper (see above and below) which will be available at Seattle Art Museum (SAM) Gallery beginning in early August 2016. SAM Gallery is run by the inimitable Jody Bento. It is a great space which both rents and sells local artists' work. Jody recently told me that she loves getting up everyday, knowing that she is going to make money for artists. What a great way to start the day! I am very pleased to be showing at SAM Gallery.
I will be going to the Vermont Studio Center in the small rural town of Johnson, Vermont this fall for a month long artist residency. I am so excited to have this opportunity to focus on my work in such a beautiful setting, to meet other artists,and to experiment and create new work.
-Cathy
---
October 2015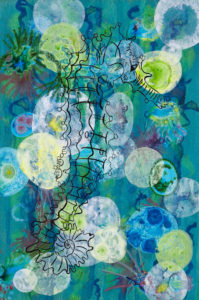 Read an interview of Cathy Sarkowsky by Moss+Mineral in conjunction with the Tacoma Studio Tour on Saturday, Oct. 17, 11-5.
---
September 2011
Whose Picture is It?: Bumber by Number at Bumbershoot
by GARY FAIGIN on Sep 13, 2011